Support business for foreigners

● Certified as a "specific skill" registration support organization!
Y2qare Co., Ltd. has been accredited by the Ministry of Justice as a registration support organization that supports foreigners with a new status of residence "Specific Skills" that began on April 1, 2019!
Certified on June 20, 2019, certification number "19-000744"
We can also introduce foreigners with specific skills and technical interns. Please contact us if you are thinking of hiring a foreigner!
Please check this out for details.
● Opened a training course at the Nakatsugawa Foreigner Training Center after entering Japan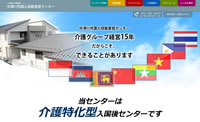 Click here for this site
Starting in mid-March 2020, a post-entry course will be held at the Nakatsugawa Foreigner Training Center.
In addition to providing guidance on living in Japan without problems, our training center uses high-level Japanese language education and a glossary of technical terms prepared for each company so that post-assignment practical training can be carried out more smoothly. Education. With regard to nursing care, we provide one-to-two months of education to nurture the immediate ability to experience and be interested in work and to be rewarding for work.
● Information site for foreigners studying, working and living in Japan 'JPNAVI.
This is an information site for foreign students, technical interns, and foreigners who work in specific skills who wish to study in Japan or enter Japan. It contains detailed information necessary for foreigners to study, live and work in Japan.
In addition, by registering as a member, we have established a community plaza where you can get acquainted with the same circumstances and communicate with them. Please register and use it to make friends!

JPNAVI has rated Japan International logo in the Education Science Department established authentication permissions.

Introduction of rental properties for foreigners
Surprisingly Few! Real Estate and Real Estate Management Companies That Support Foreigners
There are many real estate companies, but there are still few that can introduce properties regardless of nationality, and it is very difficult for international students and other foreigners to find a room. We only introduce properties that accept foreigners. Please feel free to contact us. Inquiries about properties do not need to come to the store, we accept them by phone or email.
We will teach you manners, rules, and general knowledge about life in Japan.
If you know the rules and manners for living in group housing, you can live comfortably without causing unpleasant troubles and problems. We will carefully explain in your native language in advance how to live in Japan, rental terms, etc. to protect you from troubles.
Please leave the necessary home appliances and furniture arrangements to us.
Please leave it to us to assist you in leasing and purchasing furniture and home appliances that are convenient for short-term stays. If you rent a home appliance made in Japan at a reasonable price, you don't have to worry about it breaking down or getting rid of it when you return home.